duty of ministers to be nursing fathers to the church; and the duty of churches to regard ministers as the gift of Christ a charge delivered by Rev. John Ryland ... and a sermon delivered by Rev. S. Pearce ... in the Dissenters Meeting House, Angel Street, Worcester; at the ordination of the Rev. W. Belsher, to the pastor of the Baptist Church, meeting in Silver Street, in that same city ; together with an introductory address by Rev. G. Osborn. by John Ryland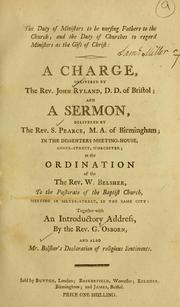 Published 1796 by Sold by Button [etc.] in London .
Written in English
Read online
Subjects:
Belsher, W.,
Ordination sermons -- Early works to 1800.,
Baptists -- Sermons -- Early works to 1800.,
Sermons, American -- Early works to 1800.
Edition Notes
Book details
Other titles
Samuel Miller library.
Contributions
Pearce, Samuel, 1766-1799., Osborn, G.
The Physical Object
Pagination
64 p. ;
Number of Pages
64
ID Numbers
Open Library
OL23358095M
Download duty of ministers to be nursing fathers to the church; and the duty of churches to regard ministers as the gift of Christ